Verano de Amor

Created by

José Iefirno
Patricia Maldonado

Format 

Telenovelas
Producer

Pedro Damián
Luis Luisillo
Cris Morena

Main characters

Dulce María Christina Mason Brandon Peniche Juan Ferrara
Victória Díaz Mark Tacher Lola Merino
Pablo Lyle

Country

Mexico

Started on

February 9, 2009

Ended on

Seasons

July 24, 2009

2

Episodes

Running time

120

42-45 minutes
Verano de Amor (Summer  of Love) is a Mexican telenovela produced by Televisa. It's a remake of Argentine telenovela Verano del 98. Verano de Amor replaced  an ended telenovela Juro que te Amo and it started airing on February 9, 2009. In US it was airing on Univision channel.
In Slovenia, Verano de Amor was broadcast on Kanal A, and reached second place of top programs with the highest audience of the channel.
Description
Edit
Verano de amor is story of four teenagers who've always lived in the city of Tlacotalpan, Veracruz in Mexico. The story's message emphasizes the distinction between the importance of pursuing one's dreams and the importance of pursuing material things. The show's creators chose Tlacotalpan for its setting in large part because of its natural beauty; the storyline of Verano de amor incorporates messages promoting enviromental responsibility, an extension of Televisa's "Televisa Verde" initiative focused on the environment.
Dulce María..................Miranda Perea Olmos
Gonzalo García Vivianco..................Mauro Duarte Villalba
Christina Mason..................Zoé Palma
Brandon Peniche..................Dylan Morett Carrasco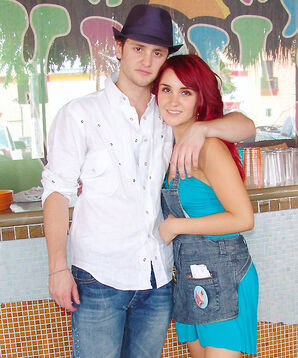 Pablo Lyle..................Baldomero Perea Olmos
Mark Tacher..................Dante Escudero
Victória Díaz..................Flora Palma
Lola Merino..................Sofía Duarte
Ana Layevska.................Valéria Michel
Enrique Rocha..................'Vito Rocca Provenzano
Juan Ferrara..................Othon Villalba de Limonquí
Luz María Jeréz..................Aura De Rocca
María Fernanda García..................Reyna Olmos
Felipe Nájera..................Federico Carrasco
Sharis Cid..................Frida Morett de Carrasco
Manuel Landeta..................Marcos Casar
Rebeca Manriquez..................Zulema Esdregal
Ariane Pellicer..................Adelina Olmos
Manuel Ojeda..................Clemente Matus
Ari Borovoy..................Elías Lobo
Analía del Mar..................Feliciana Clavería
Lourdes Canale..................Etelvina Garcia González
Juan Carlos Muñóz..................Santino Rocca
Rebeca Mankita..................Lina Corvalán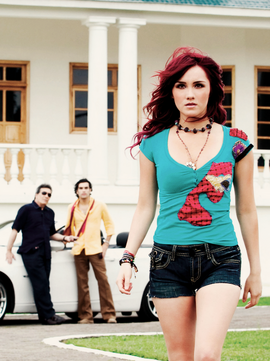 Jorge Ortín..................Adriano Bonfiglio
Viviana Macouzet..................Jennifer Montili
Karla Souza..................Dana Duarte Villalba
Esmeralda Pimentel..................Adalberta Claveria
Andréa Muñoz..................Milena Carrasco
Michelle..................Brisa Palma
Yessica Salazar..................Giovanna Reyes
Carmen Rodriguez..................Eva Rocca
Fernando Robles..................Donato Vallejo
Pedro Damián ..................Benito
Wisin & Yandel
Christopher Uckermann as Ucker