RBD was a Mexican musician group.
RBD was formed in the Mexican telenovela Rebelde , where they started as a fictional group, but they've became so popular, that they started as a real group.
The group was officialy formed on October 30, 2004 and on August 15, 2008 they announced that they will separate in 2009.
The band members were Dulce María , Anahí, Maite Perroni, Christopher Uckermann, Alfonso Herrera and Christian Chávez. 
Achivements and attractions
Edit
Every day, the telenovela Rebelde was watched by over 20 million people.
Telenovela Rebelde, was played in 65 countries worldwide and broke the rating records in all of them.
In France they won an award for the song "Tu Amor"
In just 7 hours of released album "Nuestro Amor" in Mexico, they sold more than 180.000 copies.
In 2007 they broke the record of selling the most CD's in Brazil, and even today they are holding on to that record.
In just 1 year RBD sold more than 340.000 concert tickets in USA and defeated Madonna's record, who in 30 years sold 291.000 tickets.
In 2008, Billboard announced that RBD is the best group in the world of all time.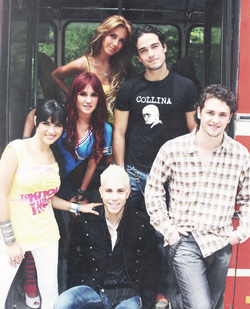 They broke records in Japan, France, Poland, Italy, USA, Canada, China, India, Thailand and Australia with the song "Tu Amor".
RBD was signed in the Guinness Book of Records as the group with the most awards (180 awards in just 4 years) and even today they are still holding on to this record.
They defeated the record of The Beatles and Green Day in the sold out CD's in Romania.
RBD is the only group that sold out tickets in Slovenia in just 30 minutes.
All their CD's were on the top 10 list in Slovenia for weeks and even months.
They won the award "Tu Mundo", because they exceeded more than 7 worldwide records.
They won the award for the best unknown group in 2006, in Russia. 
Other band members
Edit
Charly Rey - Guitar
Eddie Tellez - Keyboard and piano
Gonzalo Velazquez - Guitar and viola
Guido Laris - Bass, musicial director and vocalist
Luis Emilio "Catrie" Mauri - Percussion
Mauricio Bicho Soto Lartigue - Drums
Spanish Albums
Nuestro Amor (2005)
Celestial (2006)
Empezar desde cero (2007)
Para olvidarte de mi (2009)
English Albums
Rebels (2006)
Portugal Albums
Rebelde (brazil version) (2005)
Nosso Amor (brazil version) (2006)
Live Albums / DVD's
Tour Generación RBD en Vivo (2005)
Live in Hollywood (2006)
¿Que Hay Detrás de RBD? (2006)
Live in Rio (2007)
Hecho En España (2007)
Ad blocker interference detected!
Wikia is a free-to-use site that makes money from advertising. We have a modified experience for viewers using ad blockers

Wikia is not accessible if you've made further modifications. Remove the custom ad blocker rule(s) and the page will load as expected.